DISPOSABLE E-CIGARETTES
HYDE EDGE DISPOSABLE 1500PF – BOX OF 10
Login to Buy
---
Description:
Hyde Edge Edition disposable vape pen is well-designed with a suitable mouthpiece. It is redesigned for the sake of better performance and swarming with vape e-liquid (6mL), 1500 puffs, and 1100mAh king-size power. Hyde Edge comes with a range of more or less 21 intense and dreamy flavors option; that will keep the session on edge by luring you to take the puffs over and over.
Features:
Nicotine Potency : 50mg.
Puff Counts : Approximately 1500.
E-Juice Concentration: 6mL.
Durable Battery : 1100mAh.
1 x Hyde Edge Disposable Vape Pen 1500 Puffs.
HYDE EDGE DISPOSABLE 1500PF APPLE PEACH WATERMELON - BOX OF 10
HYDE EDGE DISPOSABLE 1500PF BANANA AND CREAM - BOX OF 10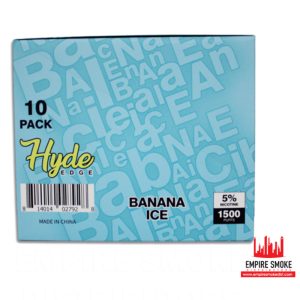 HYDE EDGE DISPOSABLE 1500PF BANANA ICE - BOX OF 10
HYDE EDGE DISPOSABLE 1500PF BLUE RAZ - BOX OF 10
HYDE EDGE DISPOSABLE 1500PF BLUE RAZ ICE - BOX OF 10
HYDE EDGE DISPOSABLE 1500PF CHERRY PEACH LEMONADE - BOX OF 10
HYDE EDGE DISPOSABLE 1500PF DRAGONFRUIT LEMONADE - BOX OF 10
HYDE EDGE DISPOSABLE 1500PF ENERGIZE - BOX OF 10
HYDE EDGE DISPOSABLE 1500PF MANGO PEACHES & CREAM - BOX OF 10
HYDE EDGE DISPOSABLE 1500PF MINTYO'S - BOX OF 10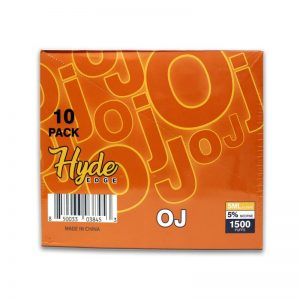 HYDE EDGE DISPOSABLE 1500PF OJ - BOX OF 10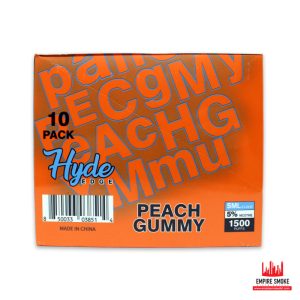 HYDE EDGE DISPOSABLE 1500PF PEACH GUMMY - BOX OF 10
HYDE EDGE DISPOSABLE 1500PF PEACH MANGO WATERMELON - BOX OF 10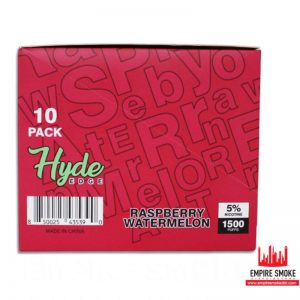 HYDE EDGE DISPOSABLE 1500PF RASPBERRY WATERMELON - BOX OF 10
HYDE EDGE DISPOSABLE 1500PF SOUR APPLE ICE - BOX OF 10
HYDE EDGE DISPOSABLE 1500PF SPEARMINT - BOX OF 10
HYDE EDGE DISPOSABLE 1500PF STRAWBERRY BANANA - BOX OF 10
HYDE EDGE DISPOSABLE 1500PF STRAWBERRY KIWI - BOX OF 10
HYDE EDGE DISPOSABLE 1500PF STRAWBERRY ORANGE ICE -BOX OF 10
HYDE EDGE DISPOSABLE 1500PF STRAWBERRYS ICE CREAM - BOX OF 10
HYDE EDGE DISPOSABLE 1500PF SUMMER LUV - BOX OF 10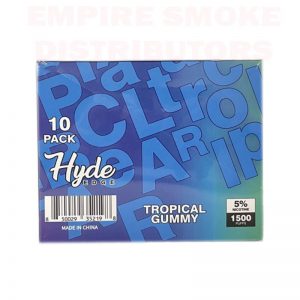 HYDE EDGE DISPOSABLE 1500PF TROPICAL GUMMY - BOX OF 10
HYDE EDGE DISPOSABLE 1500PF WATERMELON ICE CREAM - BOX OF 10
HYDE EDGE DISPOSABLE 1500PF ALOE GRAPE - BOX OF 10
HYDE EDGE DISPOSABLE 1500PF COLA ICE - BOX OF 10
HYDE EDGE DISPOSABLE 1500PF HONEYDEW PUNCH - BOX OF 10
HYDE EDGE DISPOSABLE 1500PF LUSH ICE - BOX OF 10
HYDE EDGE DISPOSABLE 1500PF NEON RAIN - BOX OF 10
HYDE EDGE DISPOSABLE 1500PF PINA COLADA - BOX OF 10
HYDE EDGE DISPOSABLE 1500PF PINEAPPLE ICE - BOX OF 10
HYDE EDGE DISPOSABLE 1500PF PINEAPPLE PEACH MANGO - BOX OF 10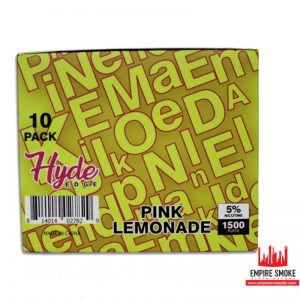 HYDE EDGE DISPOSABLE 1500PF PINK LEMONADE - BOX OF 10
HYDE EDGE DISPOSABLE 1500PF POWER - BOX OF 10
HYDE EDGE DISPOSABLE 1500PF STRAWBERRIES CREAM - BOX OF 10